The cost to repair damage to a car varies depending on the make, model and year of the car, where the damage is located and the extent of the damage. Not all damage is caused by auto accidents. In the Mid West and Southeastern United States, hail and severe storms account for much of the damage incurred by cars. The average labor rates for auto body repair are over $40.00 per hour and may be higher in large urban areas.
Damage Caused by Hail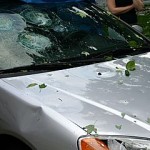 Damage caused by hail may include car windows, side mirrors, headlights, taillights, hood, fenders, roof, trunk lid and quarter panels. The average insurance claim for hail damage is $2000 to $3000 and the estimated annual average for hail damage to cars in the U.S. is over one billion dollars. Repair of a single quarter sized dent is $80 to $150 dollars and larger dents may cost as much as $500 dollars each. Side windows may cost up to $200 each to replace.
Average Cost to Repair Windshields
One of the most vulnerable parts of a car is the windows which are usually repaired by auto glass specialists. Insurance companies often deal directly with these companies and receive special rates. The average cost to replace a windshield is between $250 and $350 dollars depending on the make and model of the car. Repairing a chip in a windshield costs about $50. Having an insurer arrange repairs may result in lower costs even if the amount is below the policy deductible.
Average Damage for Collisions with Deer
In rural and suburban areas accidents involving deer and cars are common especially during hunting season when deer flee onto roadways. State Farm insurance estimated the average cost of comprehensive claims for collisions with deer was $3050 in the state of Georgia. Many of these collisions result in injury to car occupants and nationwide 150 deaths per year occur as the result of accidents involving deer.
Average Damages Resulting from Accidents
There are no statistics available for the average cost of damages caused by collisions since there are many factors involved including the area where the damage occurred, the speed of the vehicles at the time of the accident and the type of vehicles involved. The majority of auto accidents do not result in injuries and depending on the make and model of a vehicle, damages are usually under $5000 to each car in non injury accidents.
Deductibles Are Not Included in Claim Figures
When insurers report the amount of an average claim they only include the amount they paid, so damages are actually higher. The average deductible for collision and comprehensive coverage is $500, although some drivers opt for higher deductibles in order to pay lower premiums. The cost of a single hail damage claim could easily exceed the cost of auto insurance premiums for an entire year.
Many factors are considered in determining auto collision and comprehensive rates and rates vary between different insurance companies. We provide quotes from different car insurance companies in just minutes so consumers can find the lowest available rates for collision and comprehensive insurance.