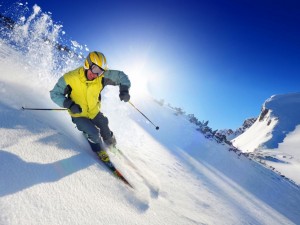 As an avid skier, I look forward to the first day the slopes are open. Luckily, in my neck of the woods, the ski resorts were open well into June due to a high snow fall. But I am always excited for fresh snow to ski in.
With ever changing seasons comes new sports. Fall brings football and winter brings inside sports like basketball. But the outdoor winter sports are some of my favorites. (Let's be honest: they are the only ones I like.)
Here comes the Debbie Downer part: Each sport comes with some inherent risks. But learning to prevent them will keep you safe and having fun until the snow melts.
Only play in designated areas. It can be tempting to sled or ski in areas that are considered back country, but there are serious risks. Just today a professional skier was killed in an avalanche. His talented life ended when he was skiing at a resort that has not opened yet. During the off season resorts do not do avalanche control making it extremely dangerous for those who dare to ski it. Sure, the risk and the danger can be exciting but it is not worth it. Only play in designated areas. If you are in an avalanche zone, get out. Catastrophic health insurance will do you no good if you are not around to use it.
Dress appropriately. I just shake my head when I see a young college student walking around in the snow wearing shorts and flip flops. Running to your car is one thing, but if you do not dress properly you can risk serious injury. Spending a day in the snow: make sure your skin is covered. Do not leave home without a thick down coat, gloves, hat, waterproof boots and warm pants. Without proper covering you are risking frost bite- which can cause permanent skin tissue damage- and hypothermia- when your body temperature dips below functioning level. Both can be life threatening.
Stay within your ability. As with the cliche saying, "Don't run before you can walk", the same goes for outdoor sports. You shouldn't attempt black diamond (the toughest skill level of skiing) before you have mastered 'pizza' skis. As a snowboarder, you should not try half-pipe tricks without being able to stand on the board. Trust me, I am just as impatient to try the 'fun' stuff as the next person, but I always fall the most when I start trying to ski out of my skill level. First time skier? Take a buddy or invest in skiing lesson. Getting the correct form and skills will not only help you become a better athlete, but it will also keep you safer as well.
Invest in the buddy system. Like anything out in nature, going alone is never a good idea. An unnoticed fall behind some trees can be more than just an annoyance. Want to hit the slopes? Take a buddy. It is safer and more fun.